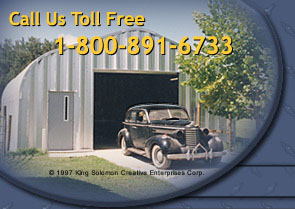 PRICE A BUILDING
TESTIMONIALS
FOUR STEP CONSTRUCTION
ACCESSORIES
FEATURES
HOME
CUSTOM STEEL BUILDINGS
Commercial steel buildings, Office Buildings, Recreational Facilities
| | |
| --- | --- |
| | |
| Use as an office addition to a manufacturing facility | Use for a retail shop |
| | |
| Great for recreational uses | Creates an attractive and affordable office & living space |
Whether you are planning to expand your business and need more space or starting out fresh, American Steel Span building provides a durable, affordable, long-term solution for office, storage, retail and other commercial building needs. For years American Steel Span has been the world leader in the manufacture and distribution of pre-engineered, trussless steel buildings.
These buildings are composed of galvalume coated steel, a special steel alloy containing aluminum and zinc, which was developed by the steel industry to provide extensive durability that is seven times more rust resistant than Galvanized Steel. It is because of this development that American Steel Span offers a 25 year, steel mill backed perforation-resistance guarantee, one of the best guarantees in the industry.
Manufactured exclusively in the United States, American Steel Span's buildings with their high sidewall clearance offer an un-obstructed, 100% usable interior space with no poles or beams to get in the way.
Additionally, each building is remarkably affordable, due in part to a high technology manufacturing process and the building's unique design requiring less labor to manufacture. They are easy to erect by simply bolting the panels together and can be built without the need for special tools or equipment by as few as four people in as little as three days. All buildings are shipped with an easy to follow assembly manual.
American Steel Span is serious about quality and customer service. The company's goal has always been 100% satisfaction while constantly looking for ways to improve its buildings. Every American Steel Span building is designed and tested to the highest standards of quality and is engineered to withstand the most severe weather conditions including heavy snow, hurricanes, tornadoes and even earthquakes. If a problem does arise, highly trained service technicians are only a phone call away.
CALL NOW - TOLL FREE: 1-800-891-6733 • COPYRIGHT © STEEL SPAN. ALL RIGHTS RESERVED