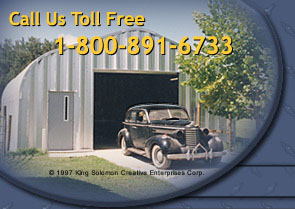 PRICE A BUILDING
TESTIMONIALS
FOUR STEP CONSTRUCTION
ACCESSORIES
FEATURES
HOME
TESTIMONIALS
Read below on what our satisfied customers have said about our American Steel Span buildings
"What I like best is the size and durability of the product. Of all the different metal buildings I looked at, American Steel Span is the only one with a 120 MPH wind load. Most of the others are only 80 MPH. It also has a superior galvaluming process.
Our building is completely finished and I can't believe how easy it is to maintain and how quick it was to build and the interior trimmed. It looks like a mountain chalet."
Jeff Peters - Pt. Ludlow, Washington
---
"We are very pleased with this building in every way, shape and form. It serves our purpose in every way we imagined. We wonder how we got along without it. The erection manual was very helpful and written in such a way that enabled us to put up the building without any problems."
It provides more storage space than the larger building it replaced. It was very easy for even an inexperienced 'first timer' like me to erect."
Richard Rhoads Invington, NY
---
"As far as I'm concerned, American Steel Span has always been on top when it comes to technology. I like the open span, it doesn't have any posts inside like the old pole barns of the past did. I can pack eight round bales of hay from side to side and pack them four high."
Rudy Turman - Willis, Virginia
---
"It was easy to put together and everyone in the family helped. It didn't take special tools or abilities. It also fit together real well."
Cecil Wiebe - Burns, Kansas
---
"This building turned out to be very useful. Our teenage boys can now do their own work on their cars anytime they want to and it keeps them at home. Even their friends use it.
Other than the fact that my American Steel Span building provides the perfect storage space, I like its looks. It has the strength and durability of any building I have ever owned, if not more, yet it has a clean and simple look."
Richard Nebuda - Scribner, Nebraska
CALL NOW - TOLL FREE: 1-800-891-6733 • COPYRIGHT © STEEL SPAN. ALL RIGHTS RESERVED