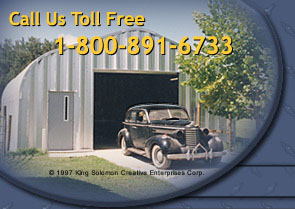 PRICE A BUILDING
TESTIMONIALS
FOUR STEP CONSTRUCTION
ACCESSORIES
FEATURES
HOME
Prefab Garage
You can find prefab garages everywhere these days. However, not all prefab garages are created equal Let us show you why.
A prefab garage from American Steel Span can save you 30-40% in erection time partially due to the unique way that the panels fit together. The last 9" of each panel in these prefab garage kits are smooth with no crimps allowing for a snug fit and no struggle to assemble. An American Steel Span prefab garage requires no caulking for waterproofing and two rows of bolts add to the strength of the overlap. The stainless steel bolts supplied with prefab garage kits are grade 2 bolts and withstand a 500 hour salt spray test. However, grade 8.2 bolts are available with American Steel Span prefab garages and withstand a 1500 test. All of the prefab garage hardware provided is durable, corrosion resistant and of high strength.
Because the crimps on the roof and sidewall panels are close together and small in depth on an American Steel Span prefab garage, there are no buckling problems and they have increased strength. All prefab garage panels have a high resistance to corrosion.
CALL NOW - TOLL FREE: 1-800-891-6733 • COPYRIGHT © STEEL SPAN. ALL RIGHTS RESERVED